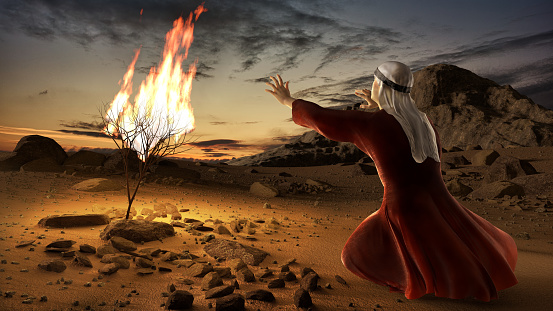 Remember the story of Moses freeing the Israelites from slavery? It was by the burning bush that God first spoke to Moses and told him to do this. And how did Moses respond? He gave many excuses, one of which was that he was not a good speaker. He asked God to please send someone else to rescue His people. God was a little angry with him! After God gave him some miraculous things to do, and said He would allow Aaron to speak for him, Moses finally agreed to do God's bidding.
We see a stubborn, reluctant Moses eventually become a willing servant of God. Not only did he lead the Israelites from slavery, but he also received the ten commandments from God and wrote the first five books of the Bible. If you fast forward to the end of Moses' life, you see how changed Moses was from the resistant shepherd that God first spoke to, into a prophet that seeks God's favor and does just what God tells Him to. In Exodus 31, Moses is at the end of his life and, despite him saying he was not a good speaker in younger years, he was very willing at age 120 to tell the Israelites every single thing God told him to. Did you know that the whole book of Deuteronomy is a speech by Moses with what God told him to say?
Then Moses went out and spoke these words to all Israel: "I am now a hundred and twenty years old and I am no longer able to lead you." Deuteronomy 31:1
"The Lord himself goes before you and will be with you; he will never leave you nor forsake you. Do not be afraid; do not be discouraged." Deuteronomy 31:8
I find it ironic but beautiful that Moses tells the people that God will be with them and never leave them. He tells them not to be afraid, as he was. Many years ago, at Moses' first resistance to God's command, God said to him, "I will be with you." Exodus 3:12 What Moses needed to hear earlier, He was now telling God's chosen people! After forty years in the desert with them, he knows they will probably stray from God in the future, plus God confirms it. Even to his last breath, he painstakingly details what God expects from them. With his heart that has loved and served God for a lifetime, he writes down laws and gives them as much detailed direction as he possibly can. He does it willingly, fervently and without questioning God at all. How different is Moses now than he was as a younger man! He is a man of God with all faith in the faithful God. His heart was changed!
The book of Deuteronomy really grabbed my heart. It is all about blessings and curses from God and obedience and disobedience toward Him that brings it. Moses did not think He could speak well without God's help and Aaron's help. He was actually right in a way. We are right when we know that we cannot do anything on our own that will count for God. When God calls us to do work for Him, He is the One who will make it possible. We just need a willing heart.
Dear Father,
Like You told Moses, You tell us today, You will never leave us. Thank You for staying with us while we work Your plan for our lives. We want to please You with our willing heart that obeys Your commands. Like You did for Moses, please continue to work through us, all the days of our lives. You are God and Holy and we can do nothing without You, but everything is possible with You. We love You so much! Amen
Have a great Tuesday! Love and prayers for you all:)
Just me. Just His. Is there anything better?
Tina