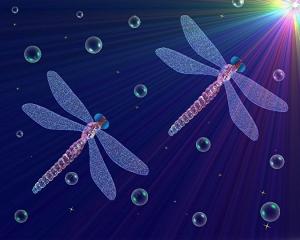 Do not remember the sins of my youth or my transgressions;
According to Your lovingkindness remember me,
For Your goodness' sake, O Lord. Good and upright is the Lord;
Therefore He instructs sinners in the way. Psalm 25:7-8
Here's a poem I wrote ages ago, about my salvation experience. It's wonderful to remember when I first realized I needed Jesus, and that even a dragonfly on my shoulder could not distract me from going to the altar to ask Jesus to forgive my sins.
The Dragonfly Chose Me
A dragonfly chose me, at children's camp, you see.
It was music time and all was fine, until he landed on me.
The kids behind me had a scream attack!
It was on my back. I turned around and said,
"Guys, I don't want to be mean, but I want to sing."
On stage, the teacher held a large picture book. I took a good long listen and look.
She then explained, "Our hearts have a stain called sin.
That makes our hearts black within." Then she started, soon, singing a beautiful tune:
"If you want a heart of white, ask Jesus in your heart tonight."
So, though the Dragonfly was now in my hair, and
My friends were making a fuss,
I just didn't care because Jesus was there. It was just the two of us. I started thinking, "What should I do?"
My heart, so heavy and black, not the color I wanted, but Jesus could make me new!
So with no looking back, Dragonfly still on me,
I left my chair and went to the altar, Jesus to see! I asked Him into my heart that day.
And when I did, the bug flew away.
Sometimes I think it was a sign
Of how Jesus is with me all the time.
So that's the story I will never forget,
When that Dragonfly and I briefly met.
But, oh, even better, what happened that night! Jesus changed my heart and made it white!
Friends, I hope you have a wonderful day. It is good and pleasing to thank the Lord for how He works in our lives. He's just so good, isn't He? I bet you have some great stories, too!
Christina